Sterile Processing Technician Apprenticeship
Sterile Processing Apprenticeship
Centura Health is partnering with Front Range Community College (FRCC) to offer a six-month, paid Sterile Processing Apprenticeship.
The program consists of coursework that includes both didactic and hands-on simulation in a fully functioning sterile processing department. Apprentices learn how to process surgical instruments used in an operating room setting to comply with standards set by the International Association of Healthcare Central Service Material Management organization (IAHCSMM).
What is sterile processing?
Sterile Processing Technicians (SPTs) are allied health professionals responsible for the sterilization and assembly off the equipment used by physicians and nurses during medical procedures, including examinations and surgery, as well as tracking inventory and ordering new equipment when needed. When you start your career as a Sterile Processing Tech, you'll be able to build a foundation for success and gain experience that can put you on a career path to becoming a surgical technologist, registered nurse or other healthcare professional.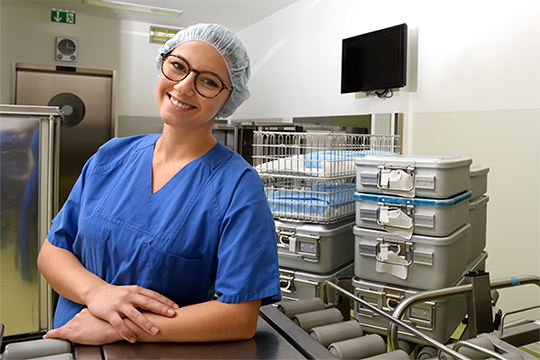 Employment opportunities for Sterile Processing Techs (SPTs) are expected to increase 15% between 2019-2024* (*Source: Bureau of Labor Statistics)
Steps to apply:
1. Join our talent community to receive information about upcoming cohorts.
2. Submit your application to the Sterile Processing Apprenticeship program.
3. Attend an info session to learn more.
4. Formal interview with hiring manager.
5. Apply to Front Range Community College.
6. Selected candidates receive offer of employment.
7. Commit to one year of employment with Centura Health upon program completion.
Employment outlook: SPTs are in high demand. Between now and 2024, the demand for SPTs is expected to grow 15%*, which is faster than the national average for most occupations. According to Indeed.com, SPTs earn an average salary of $28-$36k annually depending on certification, market experience. *Source: Bureau of labor Statistics
For more information, please visit: https://bit.ly/2y1SCyZ 
Apply
Your application has been successfully submitted.
Earn While You Learn